Corsa Security servers are configured to provide a highly performant and flexible environment for hosting virtualized security services. This article discusses the Corsa Security supplied Dell EMC PowerEdge R640 configuration.
How to learn more about your Dell EMC PowerEdge R640
Dell Support provides an easy way to locate the exact documentation you need by entering a Dell EMC Service Tag at Dell Support. The Service Tag is a multiple character identifier that is unique to your product and is located on an Information tag attached to the product.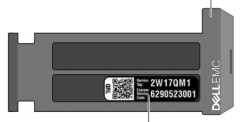 Information Tag example (front view)
Pull out the information tag located on the bottom right of the products front panel to view the Service Tag and enter it as shown below. The Service Tag in this example is 2W17QM1 and is used for illustrative purposes only.

Given the quantity and quality of documentation available at Dell Support, Corsa Security highly recommends becoming familiar with this documentation before beginning the installation of your Dell EMC PowerEdge R640 server. To get you started, here are a few suggestions.
Getting started with your system
Rail Installation Guide
Installation and Service Manual
Configuration Highlights
The goal of this article is not to duplicate the documentation found at Dell Support. It is meant to highlight specific portions of the Corsa Security supplied Dell EMC PowerEdge R640 configuration that are useful for installation, physical network connectivity or are simply informative.
Virtualization Workload
The Corsa Security supplied Dell EMC PowerEdge R640 is a dual socket 1U platform featuring the following configuration to address virtualization workloads.
2nd Generation Intel Xeon Scalable Processor product family
a total of 224 GB memory, 112 GB per socket
10GbE network technology ready to provide flexible and scalable I/O
Back Panel Connectivity
The back panel of a PowerEdge system contains access to I/O connectors for both integrated and add-in devices including networking, video, serial, USB, system ID, and system management access ports. It is also the default location for power supply units (PSU), including the points for AC/DC connections.

Back panel view of the Corsa Security supplied Dell EMC PowerEdge R640
The following back panel interfaces must be connected when using the Corsa Security supplied Dell EMC PowerEdge R640. See below for details.
Diagram Reference
Type
Slot
Port

Interface

<slot>/<port>

1
Add-In NIC
2
2
2/2
2
Add-In NIC
2
1
2/1
3
Add-In NIC
3
1
3/1
4
Add-In NIC
3
2
3/2
5
Integrated NIC
1
1
1/1
6
iDRAC

n/a

n/a

n/a
iDRAC Interface
The Integrated Dell Remote Access Controller (iDRAC) is designed for secure local and remote server management and helps IT administrators deploy, update and monitor Dell EMC PowerEdge servers.
Integrated NIC
The integrated NIC provides 4 x 1GbE ports but only one is used to provide management connectivity to the system hypervisor.
Add-In NICs
Corsa Security provides two add-in network interface cards (NIC) in PCIe expansion slots 2 and 3. Each of these NICs provide dual 10GbE ports with SFP+ connectivity. SFP connections support 10GBASE-SR, 10GBASE-LR and SFP+ Direct Attach Copper (DAC) physical media.
Rack Rails
Corsa Security supplied Dell EMC PowerEdge servers can be mounted in standard 19" width, 4-post racks and are shipped with a Dell ReadyRails II sliding rail kit.
The Dell ReadyRails II sliding rail kit for 1U systems, provides tool-less support for racks with square or unthreaded round mounting holes. They also support tooled mounting in 4-post threaded racks via an optional adapter brackets kit; this optional kit can be ordered directly from Dell and is not supplied by Corsa Security.
The Dell Enterprise Systems Rail Sizing and Rack Compatibility Matrix provides mounting features and key dimensions of the rack rails used for mounting many Dell EMC enterprise systems and peripheral devices in a rack enclosure. To learn more about the rail kit shipped with the Corsa Security supplied Dell EMC PowerEdge R640 configuration please refer to Rail Identifier A7 in this document.